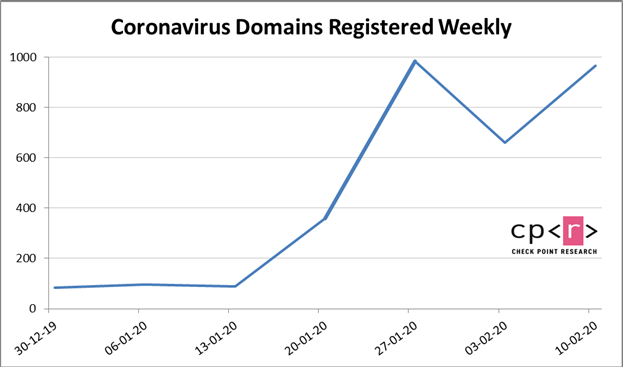 The Coronavirus domain name marketing is shining a bad light on the domain industry. In fact, this came to an ugly point when Sameer Rai went on LinkedIn with the idea to sell his Coronavirus domains. As a matter of fact, Rai contacted Carnival Cruise's chief communications officer, Chris Chiames directly. So how ugly did this get for Sameer Rai?
To illustrate, Chiames went on LinkedIn and responded with the following: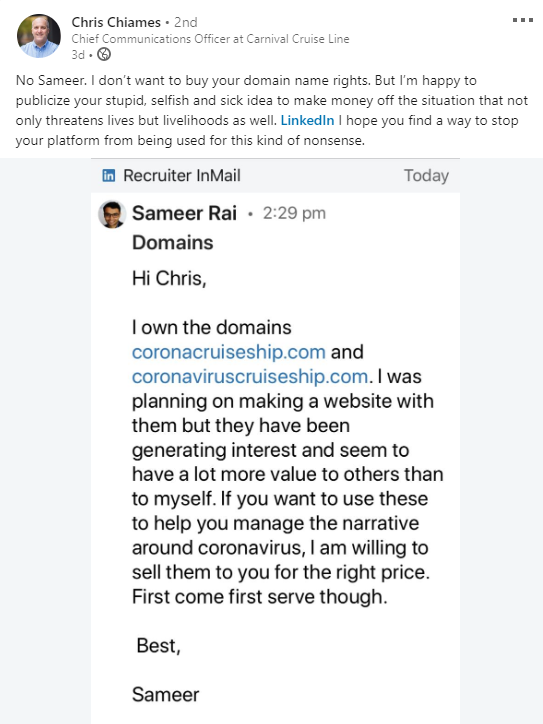 First of all, congrats to Chris Chiames on calling out this horrible use of using a worldwide pandemic to sell a domain name. With regards to the domains, did Sameer Rai think Carnival Cruise would be able to promote something with these worthless domain names?
Equally as stupid as the example above, we have also noticed the recent increase of hand registration Coronavirus domain names. This needs to stop. Just last week, over 3,500 of these worthless domains were registered. Hopefully if you are reading this, you aren't one of the ones trying to take advantage of a global crisis. In other words, we wanted to bring this out as what not to do with domain names.
As a final point, we hope the Coronavirus domain name marketing stops. This is indeed a time where we should be helping each other out, and not trying to use this as a get rich scheme.
We'd love to hear what you think about this topic on our Facebook page, @BrandableDomainGuide. Likewise, we hope you take a moment and check out our other blog posts on website domain topics.