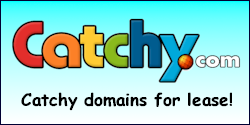 If you are looking for a domain name affiliate marketing company to promote, we have one. The website is Catchy.com and their business model is simple. To illustrate, they offer catchy, branding domain names that are available for leasing or to buy.
So how can you make money through Catchy.com? Being that Catchy.com runs an affiliate program, you need to send them traffic and hope it turns into sales. For instance, any visitor you send to Catchy.com, you will earn 50% if that visitor purchases or leases a domain. As a mater of fact, that visitor you referred will have three months to lease or purchase a domain.
The fine points of the Catchy.com Affiliate Program:
Our profit on domains leases and sales is 10%, this means a 5% commission for you.
Better, if it's a domain we own (most) then the commission is 10%.
If a domain you own, is listed in catchy.com and it brings a visitor to our website, but within three months the visitor ultimately decides to purchase or lease a different domain you will be considered the referrer and earn your commission
To learn more about the Catchy.com domain name affiliate marketing program, click here. In summary, we are in the process of looking to join the Catchy.com affiliate program. We will be sure to update this page, and or post another article about the Catchy.com affiliate program.
If you have joined, leave us some feedback through our Facebook page @BrandableDomainGuide.
Alternatively, we hope you will check out our other blog posts on domain topics, domain sales, etc.